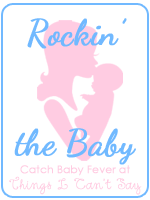 First there was
Rockin' The Bump
and now there's
Rockin' The Baby
, which is another great link-up by Shell at
Things I Can't Say
. Thanks Shell for having such a cool link up. I always love having a chance to show off my cuties, and it was also great taking a walk down memory lane and looking at all my monkeys' old baby pics. I miss the days of tiny fingers and tiny toes, and boy does time ever fly by fast!
Here is my son at five weeks
Here he is at six months
And here he is at ten months
Here is my daughter at eight weeks
Here she is at eight months
I couldn't decide on which one of these to have here, so I put them both.
Here they are together at two and a half years and nine months
And again at about three years and fourteen months
And here they are just a few months ago at six and a half years old and four and a half years old, wow have they ever grown!
So thanks again to Shell for doing this fun link-up, I really enjoyed it. Go on over and check out all the other beautiful babies at
Things I Can't Say
and even join up if you want. You'll be happy if you do, I know I am!